PBL High School is recognizing May as Mental Health Awareness Month. We have had special daily informational announcements to increase awareness and understanding of the importance of mental health. Did you know, 1 in every 5 teenagers will suffer from a mental illness and many of them can do a good job hiding it. So whomever you come in contact with today, be kind and spread love!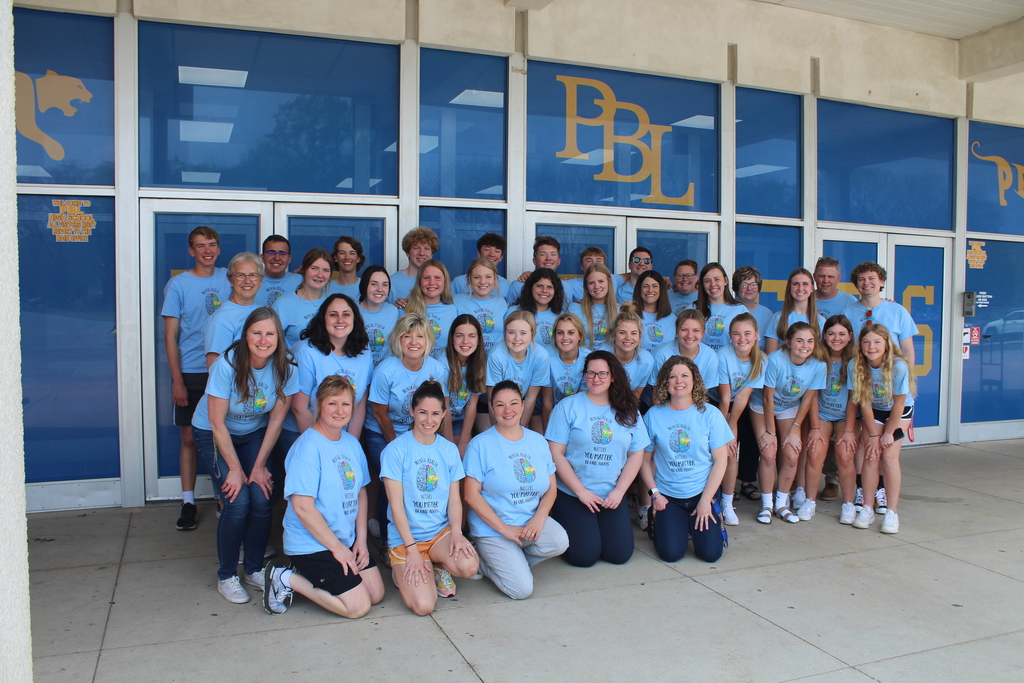 Join us in supporting our PBL artists and performers at our annual Fine Arts Festival, Saturday, May 14 beginning at 3PM at the high school!
Paxton-Buckley-Loda High School's annual Academic Awards Night will be held at 7 p.m. Tuesday May 24th, in the commons area at PBL Junior High School. Seniors will be recognized for outstanding achievements or scholarships earned during their senior year. There will be a reception sponsored by the PBL Education Foundation starting at 6:30 p.m. Family and friends of graduating seniors are welcome to attend.
Attention Seniors - Jostens will be here Wednesday during lunch to deliver graduation items. See Troy Hall in the lobby area in order to pick up an order that is paid for, pay for an order, or place an order (this is the last chance to place an order prior to graduation).
Attention juniors and seniors: Prom sign up is due April 21st. ALL forms AND money must be turned in at the SAME time to Mrs. Wood. If you are bringing a guest you must also turn in the sign up form!
SAT Date & Location Details: Juniors: SAT Testing will be off-site on Wednesday, April 13th. Students, please report to the Gym at 7:45 AM. You will then be shuttled to St. Mary's Catholic Church or Church of Christ. You will be provided a snack and drinks during breaks and a sack lunch at the end of testing. You will be dismissed for the day and shuttled back to the high school at approximately 12:30. Remember: Get a good night's sleep and eat a good breakfast as there is absolutely NO FOOD or DRINKS allowed. Also, no CELL PHONES, IPODs, bags, purses, colored pens/pencils, or papers of any kind. Please bring No. 2 pencils and approved calculators. Feel free to check in the counseling office with any other questions you may have.
PSAT Date & Location Details: PSAT Testing for 9th and 10th graders will be Tuesday, April 9th. There will be signs posted around the school with what room you will attend. If you don't see your name please see the counseling office. Students, please report directly to your room assignments and attendance will be taken there. Remember: Get a good night's sleep and eat a good breakfast as there is absolutely NO FOOD, DRINKS, CELL PHONES, MP3 Players, bags, or purses allowed! Please bring pencils and calculators (only certain are allowed). Feel free to check in the counseling office with any other questions you may have.
Gun violence is preventable when you know the signs. "Say Something" upstanders have helped Sandy Hook Promise prevent 7 school shootings and 60+ acts of violence with a weapon. Learn the warning signs:
www.sandyhookpromise.org/warning-signs
#SaySomethingSavesLives

All baseball, softball and track competitions for today are canceled.
At PBL, every staff member promises to be a #TrustedAdult and listen when students "Say Something" to us. #SaySomethingWeek #SaySomethingSavesLives
At PBL, our students promise to be an #Upstander and "Say Something" when they see someone at-risk of hurting themselves or others. #SaySomethingWeek #SaySomethingSavesLives
In 4 out of 5 school shootings, at least one other person had knowledge of the attacker's plan but failed to report it. People who hurt themselves or others often show warning signs before they carry out an act of violence. #SaySomethingWeek #SaySomethingSavesLives

Prom 2022 will be hosted at the Pueblo Lindo Event Center on Saturday, May 7th from 8-11PM. The cost is $20 per person. Students must turn in the sign up form, the guest form (if needed), and money to Mrs. Wood no later than April 21.
This #SaySomethingWeek, we are raising awareness on learning the warning signs of violence and how to get help. Here are the 3 steps: Recognize the signs, Act immediately & take it seriously, and Say something
www.sandyhookpromise.org/warning-signs
#SaySomethingSavesLives
Hey Juniors: The SAT Test will be April 13th. SAT Pre-Ad will be March 30th. Listen to the announcements for more details, or stop by the Counseling Office.
For those parents who may be stuck at home today, this is a great opportunity to complete the 5Essentials Survey. 14% of you have already completed this, but we need at least 20% so we can have access to this important information.
https://survey.5-essentials.org/illinois/
The 8th Grade Orientation/Parent meeting has been rescheduled to Wednesday evening, February 16th at 6:00 p.m. in the PBL commons area due to a conflict at the Junior High.  All eighth grade students and their parents or guardians are invited to attend. Students and parents will receive information about courses offered at PBL, graduation requirements, required courses for college admissions, extra-curricular activities and general policies.  There will be time for questions and answers. Also, tours of the building will be available. Please call the high school guidance office at 379-4331 ext 2 with any questions.